President Michelle Phillippi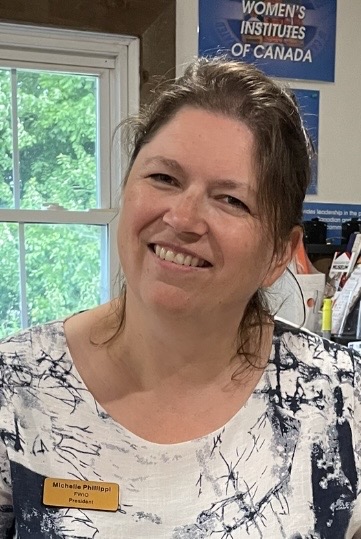 2023 has been such a wonderful year for WI in Ontario! Our members have gradually - and safely - emerged from the pandemic restrictions to once again enjoy the companionship that local branches offer. Education is at the core of the WI, and many branches were delighted to once again offer local ROSE sessions - Reaching Out Sharing Education in public meetings. They had fun - making seasonal decorations for long term care homes. They taught skills like sustainable gardening. They organized all candidates meetings for local elections. And true to our history, they worked for change, inviting local law enforcement to speak about topics like fraud and human sex trafficking. I have delighted in the opportunities I have had to visit our branches and hear their news in person!
Hello everyone, Happy 126 years of Women's Institute!
It has been an exciting year for WI as 125 celebrations were held around the province. Thank you to all who planned and/or participated in events this past year!
It's Annual Mailing time again. The Ontario Not-for-Profit Corporations Act (ONCA) requires the FWIO to have an
accurate membership list. Please fill out the Branch Member List to ensure the FWIO office has a complete list of all
WI members province wide. Thank for your cooperation, and thank you to all committees for your commitment to FWIO, you all put forth a tremendous effort.
The Marketing & Membership Task Force did an excellent job of researching potential Customer Relation Manager(CRM) programs. With their help we have chosen MemberLeap through Vieth Consulting. Final touches are being made, it will up and running soon. We are targeting towards the option to renew memberships online, making it
less cumbersome, with fees coming directly to the office. This will relieve some of the burden placed on the treasurers at the District and Area level. A bonus, this program will allow new members to join directly online.Research done by the ONCA Task Force has been compiled, the information has been sent to an ONCA certified lawyer to help us decide how to put our best foot forward. The FWIO Board is not going to rush into a decision, we want to get it right. Surveys conducted over the last few years have led to concern of a major restructuring. Bylaws
and policies in the handbook will be amended and voted on at an AGM by the membership before it can take place. We are excited to see how many new members joined from the WISH scavenger hunt. To view entries, check out the FWIO Digital Collections and simply go to our website www.fwio.on.ca. We will endeavor to keep the lines of communication open, please feel free to contact your Board Director or Area Voting Delegates on a regular basis.
Have a wonderful year everyone!
Michelle Phillippi